A Family Of Unique Modular Electric Infrared Dryers
IR Systems offers a unique family of Modular Infrared Dryers which have been proven successful in many web, sheet, textile and other industrial drying applications including ink-drying, textiles, laminating, embossing, adhesives curing, paint baking, in-line finishing systems for sheet fed offset presses. The units are pre-engineered for reliability. These high performance units are compact, easy to install and fully guaranteed for peace of mind. And, because they come in building block sizes, they are easy to systemize. The units are available in short wave lamp type, quartz tube type and perforated panel type.
Mini - Jet Dryer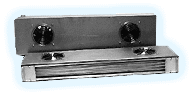 The Mini-Jet is the little brother with all the big features of the Jet-Dryer. A narrow version designed to fit in tight places where drying is needed and speeds are relatively slow. The unit also uses the IQH heater and is available in a horizontal and vertical burning configuration. Available in widths (or lengths) from 10 through 90 inches. Applications include; stack type presses, narrow web applications, 'stripe' drying or tag & label.
Jet - Dryer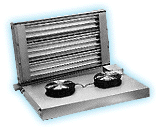 The Jet-Dryer is our most popular selling unit and the original modular infrared dryer offered to the converting industry. Proven in hundreds of installations to be extremely effective as a booster to hot air dryers whose capacity is limited due to the use of waterbased inks and coatings. It is also extremely flexible in using multiple units as a complete system. The Jet-Dryer also features the new IQH emitter with internal reflector. This assures maximum energy transmission to the product. When combined with the self-contained fans the air knife 'Jet' action accelerates the drying process. The results are truly amazing. The Jet-Dryer is available in widths from 10" through 90". Typical applications include: waterbased inks and coatings, boosters to existing ovens, interstation drying, flexographic printing, ink jet drying and many others.
Pro - Dryer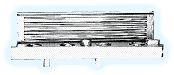 The Pro-Dryer features everything needed to achieve maximum drying capacity-The high performance IQH tubular quartz emitter, self-contained supply air fans and connection for remote exhaust fan. The performance obtained by the novel dual counterflow air knife design justifies the nickname this unit earned as "the ultimate drying machine" and makes this unit the choice when high performance is required. The PRO-DRYER is available in any width for webs and sheets from 16" to 90". Applications include: water-based inks, coatings, and laminating.

Ram - Dryer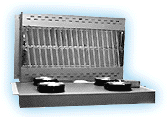 The Ram-Dryer is the newest member of the Modular dryer family. This is a high intensity unit engineered for performance when space is at a premium and high watt density is needed to get the job done.
The unit features a high quality clear quartz short wave lamp with ceramic reflector designed and manufactured exclusively for IR Systems. Full power is achieved at the flick of a switch. This means less product waste and maximum energy transmission to the product. Heavy duty stainless steel construction coupled with unique air flow assures low maintenance and dependability. The unit is available in widths from 10" through 180" and beyond. Applications include, high speed web drying, interstation and final drying for flex printed on corrugated, letterpress, offset and many others.
Pro - Heater

The Pro-Heater is a modular, perforated panel heater which offers a combination direct radiation and hot-air convection for outstanding performance on off-line waterbased drying applications. The unit is extremely rugged and virtually maintenance free. The Pro-Heater is available in widths from 12" through 120" and above. Typical applications include conveyorized oven systems, textiles, off-line coating and others.
Control Panels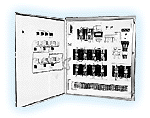 Reliable solid state power control panels are essential for optimum system performance. Let our experienced Applications Engineers recommend the appropriate control system for your application.
Company Information · Heaters · Dryers · Oven Systems
Quartz Heaters · Contact Us · Home

Click here to view other Quartz Tubing
and Heating Elements
IR Systems

Phone: (215) 638-0909 · Fax: (215) 638-0970
Email:info@infrared-systems.com
723 B Wicker Ave, Bensalem PA, 19020

Copyright © 2007 by IR Systems, All Rights Reserved.
Web Design by Sales & Marketing Technologies