Any type of electric infrared heater is available from IR Systems. We can replace any competitors heaters with an equivalent. We can custom design heaters for your particular application. Quantities from 1 to 1000 are available with many sizes in stock for immediate shipment. Some typical types of heaters we carry are shortwave quartz lamps, quartz tubes, quartz cloth face, quartz plate face, glass faced panel heaters, open coil heaters. We can duplicate any heater to your specifications or our recommendation. If we can't supply your heater, nobody can!
Heaters Available From IR Systems
Quartz Lamps-short wave T-3 lamps. Standard or custom. Any end configuration. With or without fixture assembly.
Quartz Tubes- medium wave quartz tube heaters any diameter, up to 60 watts/lineal inch, snap-in, spade end, high temp. leads-any end configuration. 6" up to 90" and longer. Pre-wired arrays, individual fixtures, with or without reflectors.
Ceramic Heaters- White or black, Full (60mmx245mm) or Half (245mmx122mm) Trough Emitter, with or without indicating logo, with or without reflectors, available as assembled, prewired arrays if needed. Many voltage wattage combinations.
Panel Heaters - Rugged, reliable and efficient quartz cloth heaters. Building block sizes 6x12 up to 12x72. Can be stacked together to form larger panels or ones. Up to 25 watts/sq. in.
Quartz Plate Heaters - High purity quartz plate with heating coil embedded behind for maximum efficiency. Any size can be created using modular, units. Up to 60 watts/sq.in.
Metal Sheath Heaters-Popular and rugged tubular heaters available in many diameters, lengths and custom bent configurations. Available with or without reflectors or fixtures.
Glass Panel heaters - Proven efficient for thermoforming applications for the ease in cleaning. Available in all popular wattage and voltage and sizes.
Foil-type Heaters-Very fast response corrugated foil stapled to a highly reflective ceramic board. Available perforated for air flow.
Serpentine Type Heater - A fast response "snake" shaped element stapled to a ceramic refractory board. High temperature operation. Available perforated for air flow.
Control Panels
Make your heaters perform to maximum efficiency with an optional control panel from IR Systems. We can design and build the proper control from a simple electromechanical on/off system to a closed loop non-contact feed back or PLC based system.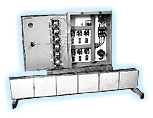 Company Information · Heaters · Dryers · Oven Systems
Quartz Heaters · Contact Us · Home

Click here to view other Quartz Tubing
and Heating Elements
IR Systems

Phone: (215) 638-0909 · Fax: (215) 638-0970
Email:info@infrared-systems.com
723 B Wicker Ave, Bensalem PA, 19020

Copyright © 2007 by IR Systems, All Rights Reserved.
Web Design by Sales & Marketing Technologies