Custom-designed systems are the standard at IR Systems. We have the knowledge to integrate the heaters, air flow, control system and/or material handling into a turnkey system. We are experts at working within your process parameters and budget constraints to supply you with a quality Infrared System. Some of the custom-designed systems we have recently shipped include remoist glue dryer (web), flexographic ink dryer (web), conveyorized lexan bottle annealing oven, off-line coating curing with vacuum hold down conveyor for sheet (folding carton), batch type lab ovens, food processing conveyor oven for research, drying coatings on glass, textile heatsetting, drying coatings on metal parts, and many others. Don't be afraid ti inquire with your application. We are used to the unusual.
Paper, Film and Foil Converting Application

A double pass, four zone web dryer. Dries aqueous coatings at 1000 feet per minute.
Flexographic Printing Application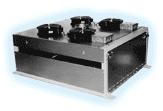 An economical single zone system. Dries aqueous inks on paper web at 500 feet per minute.
Textile Application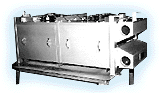 A small pre-dryer removes water after scouring. Included control panel.

Narrow Web Tunnel Dryers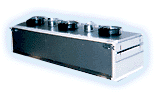 A narrow web coated with an aqueous adhesive is dried at 30% less power than a competitor's system.
Control Systems

Proper control is the key to high performance infrared heating, drying and curing. All IR Systems engineered products include turnkey control system in NEMA 12 enclosure. Custom consoles available to match your existing equipment if needed.
Infrared Conveyor Ovens
Shown: A small, dual line conveyor oven for heating watch crystals prior to forming. Using our state-of-the-art CAD system, our Applications Engineers can design a conveyor system for your application.

Company Information · Heaters · Dryers · Oven Systems
Quartz Heaters · Contact Us · Home

Click here to view other Quartz Tubing
and Heating Elements
IR Systems

Phone: (215) 638-0909 · Fax: (215) 638-0970
Email:info@infrared-systems.com
723 B Wicker Ave, Bensalem PA, 19020

Copyright © 2007 by IR Systems, All Rights Reserved.
Web Design by Sales & Marketing Technologies